Choose The Best Fridge for Your Needs When It's Time to Replace Your Old One
Written By: admin on July 15, 2021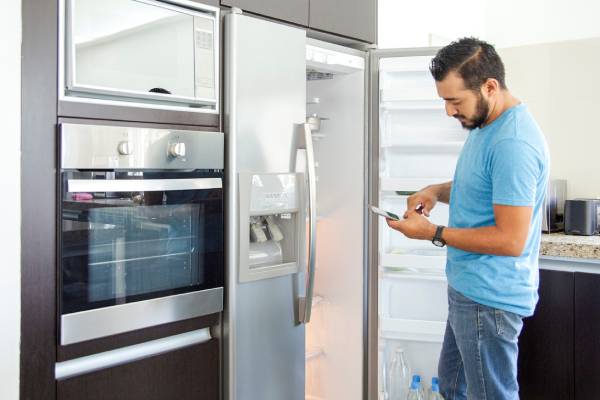 If there's one appliance that you can't live without, it's probably your refrigerator. When your refrigerator stops working, it's not just an inconvenience. It can be a health hazard. A home protection plan in California can help you get your fridge repaired quickly when it does have problems. Your repair technician can also help you decide whether it would be better to replace the appliance instead of fixing it. If you're in the market for a new fridge, here are some tips for choosing the right one.
What Fridge Should You Choose to Cover with Our Appliance Coverage in California
What's Your Lifestyle?
Modern appliances have all types of features and come in many styles. The class top freezer style is great when you're on a budget, but if you're looking for luxury, you'll want to keep shopping. A bottom freezer style gives you more room for frozen food. It's also easier to access your fresh food. Side-by-side refrigerators are more common today, but if you need easy access for kids to drinks and snacks, these aren't the best choices. French door styles are high-end luxury appliances that have the best of all worlds. If you have appliance coverage in California, it may help cover the price of a new refrigerator when yours gives up.
How Much Space Do You Have?
Before you bring home your new fridge, make sure to measure your old one and find one that is compatible. You may want to measure your counter depth and width between the fridge and your kitchen island, just to make sure that the new one won't jut out too much. Check your entry points, too. The path to getting your new fridge to where it fits can be just as important as where it sits.
What's Your Budget?
The more features you want, the more your refrigerator will cost, so you should always take your budget into account. But if you're wanting to upgrade and have more smart features, when you're replacing your fridge, you should consider what type of fridge fits your needs. Don't forget to look for energy-saving models to keep your utility bills from rising. Get a home warranty plan in California to save money on repairs and replacements of the major systems in your home.
Get the Best Home Protection Plan in California
HomeGuard HomeWarranty provides excellent appliance coverage, roof coverage, and much more to help homeowners in California, Nevada, and Arizona budget for and save on home repairs. Call 1-866-993-2301 today or contact us on our website to learn more about the range of coverage options we have as well as additional coverages for things like outdoor kitchens, pools, and more!